News & Events
Events
St. Mary of the Woods Turkey Trot
Turkey Trot Registration
When: November 23, 2017, 10:30am
Where: Trot starts at 6959 N. Hiawatha Avenue, Chicago, IL 60646.
Ticket Price: Online Registration – $15 per person/$30 per family or Day of Registration – $20 per person/$40 per family
The Henry Schueler 41 & 9 Foundation is a proud co-sponsor of the 2017 St. Mary of the Woods 5K Turkey Trot! Join us and the Danny Did Foundation for a Turkey Day trot with proceeds benefiting our Foundations and St. Mary of the Woods Parish families in need. Henry was a student and parishioner of St. Mary of the Woods where the Schueler family still attends mass and actively participates in parish and school events. All ages welcome. Runners, walkers & strollers!
2nd Annual Gala & Casino Night
Gala Registration
When: January 13, 2017, 7pm-11pm
Where: Joy District, 112 W. Hubbard Street, Chicago, IL 60654
Ticket Price: $130.00
Please join us for our 2nd annual Gala & Casino night! Open bar and appetizers included with ticket purchase. Guests will receive poker chips upon arrival for blackjack, craps, roulette and more. Bring your poker face as the top winners will receive prizes! Prizes include Bears, Bulls, Hawks, Cubs tickets, gift cards and more! Cocktail attire is required.
2018 Cycle for a Cure
Save the date for our annual Cycle for a Cure Ride from Chicago to Milwaukee on JUNE 23RD, 2018! Details to follow.
News
September 21, 2017
Ultra Marathon Runner Raises Funds to Honor Childhood Friend Henry Schueler
Eric Schneider, now a 19-year-old sophomore at the South Dakota School of Mines, in a tribute to Henry Schueler, recently decided to link his love of ultra-running into a fundraising effort to benefit the Henry Schueler 41 & 9 Foundation. It's a poignant nod to the friendship he formed with Henry years ago.
Eric has ties to the Schueler family that go way back. Eric's mother and Henry's mom, Sue, went to elementary school together and the families spent vacation time together years ago during July 4th holidays. When Henry died in 2007 from a fungal infection caused by his fight against acute lymphoblastic leukemia, Eric was only nine years old. As a young child, Eric fondly remembers Henry and really looked up to him. "He was always the nicest one to me, into sports like me and a great kid," he said. "I distinctly remember thinking that I wanted to be just like Henry and when he died, it hit me hard."
Running has always been an effective way for Eric to stay active and deal with stress and he expanded his interest to include ultra-marathons, which are any races longer than the traditional 26.2 mile marathon length. "Once I completed my first 108-mile run as a dare as a junior in high school, I was hooked," he explained.
This year, Eric decided to train for August's "Lean Horse 100 Mile" race in South Dakota and said he wanted to make it truly special by attaching a Henry Schueler 41 & 9 Foundation fundraiser to it as a nod to his friend. He started a CrowdRise online fundraising page, spread the word on Facebook and Twitter and asked friends and family to reach out with support.  His effort was met with incredible success, and while Eric is still tallying up the total donations, he expects to present the Foundation with a check for approximately $2,200.
Unfortunately, just after the 55-mile marker of the race, Eric stepped on the curb wrong and partially tore his meniscus, causing him to drop out at the 56.6-mile aid station. That didn't stop his enthusiasm for running, however and he said, "People supported me and my fundraising throughout and I can't wait to do another race."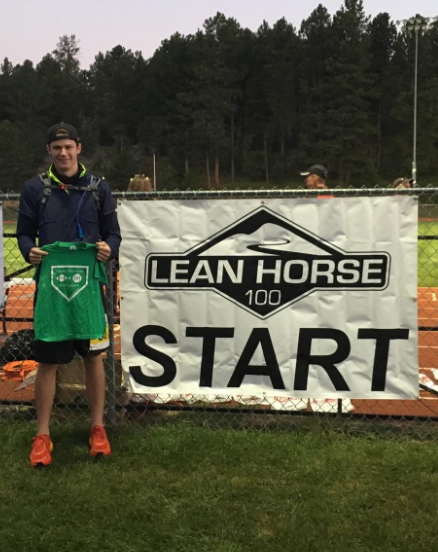 February 15, 2017
Eagle Scout Project Beautifies Henry Schueler Field
When thinking about what to choose for his Eagle Scout project, candidate Aaron Williams had much to consider. He knew he somehow wanted to give back to the Wildwood Community in which he lives, but wasn't sure how. He finally decided on the Henry Schueler project because he and his friends have played on the field for years and knew that the restoration would make a noticeable improvement for years to come. He also learned of the strength, courage and determination that Henry displayed while battling his hypodiploid leukemia diagnosis. This project would both pay tribute to Hank and give back to the Wildwood Community by helping to restore the bleachers in the dugouts of Henry Schueler Field.
With the help of Bob Arlow and Michael Lanigan from the Chicago Park District, the boyscouts removed the old dugout bleachers, dug trenches for new moorings, installed new wooden planking and then erected new bleachers over the course of several weekends. Boy Scout Leaders, including Kevin Casey, Steven DeLaCruz, Bill Kolodziej, Dan Pucirello, Gail Schneider and John Williams, supervised the project.
Aaron was in charge of organizing the daily work load ensuring other boy scouts were both busy and organized. The boy scouts who assisted in this project are Michael and Declan Fitzpatrick, Patrick Khun, Chris Perry, Joshua Russell, and Charlie and Ben Williams. Neighborhood Volunteers included Conor Farrell, Michaels Stevens and Hank Wagner. This project could not have been successfully completed without all of you.
In addition to the restoration of the dugouts, a re-dedication ceremony is planned. Other improvements will include a new scoreboard and a mesh tarp on the backstop. The spring ceremony will be planned prior to the official opening of the 2017 baseball season.
February 3, 2017
Henry Schueler 41 & 9 Foundation Presents $100,000 Check to Dr. Charles Mullighan During Presentation at St. Jude Children's Research Hospital
On January 31, 2017, Matt Schueler, Founder of the 41 & 9 Foundation, and Board Member Gianna Funkhouser, met with Dr. Charles Mullighan and his team of researchers and scientists at St. Jude Children's Research Hospital in Memphis, TN. They were joined for a presentation by the Kuchta family, Rusty, his wife Jean, and daughters Molly, 17 and  Maddie, 15, of a $100,000 check to Dr. Mullighan for his continued research projects involving leukemias.
Molly Kutcha, like Henry Schueler, was diagnosed with hypodiploid acute lymphoblastic leukemia (HALL) as a teenager but thanks to advancements in the understanding and treatment of this previously little understood subtype of ALL, has successfully completed three years of chemotherapy and is now in remission. The Kuchta family raised $40,000 at the "MollyStrong" golf outing this year, which they generously donated to the 41 & 9 Foundation. The joint gift of $100,000 to St. Jude's was the Foundation's single largest research donation made to date.
A portion of Dr. Mullighan's research, led by post-doctoral fellow, Evan Comeaux, was recently presented at the American Society of Hematology conference, the largest blood cancer meeting in the world, and will be published later this year.
The Henry Schueler 41 & 9 Foundation is proud to be making a difference in supporting research that is truly impacting lives like Molly's.
But our work is not done. Please join us for our Cycle for a Cure Ride from Chicago to Milwaukee on June 10, 2017. Sign up is easy and the bike ride is open to adult riders of all levels. Click here to register.
and commit to raising $300 or more to support your ride. Help the 41 & 9 Foundation continue to fund research that impacts people's lives at a time when they need it the most.
Be proud of your past support and know your money is being used in groundbreaking research at the world's premier and only Pediatric Comprehensive Cancer Center-St. Jude Children's Research Hospital.
Henry would be very proud that we are continuing our mission to find out why this happened to him so we can prevent it from happening to others.
NORD 2016 Rare Impact Award
On May 17, 2016, Matt Schueler, founder of the Henry Schueler 41 & 9 Foundation, presented a NORD 2016 Rare Impact Award to Dr. Bernie Zeiher of Astellas for its breakthrough drug, Cresemba. Cresemba has been effectively used to treat mucormycosis, a serious, life-threatening, invasive fungal infection those with weakened immune systems often contract. These awards are provided to recognize individuals, organizations, advocates and companies that are moving us forward in the fight against rare diseases. Watch Matt's introduction and Dr. Zeiher's award acceptance here by scrolling to the 28-minute mark.
2016 Cycle For A Cure on the News!
NBC5 Chicago's Alex Maragos was one of more than 100 cyclists that rode from Evanston to Milwaukee during our annual Henry Schueler 41 & 9 Foundation's Cycle For A Cure. Click here to see NBC's recap of the event.